Client : Quintain Estates
Programme : 28 months
Value :  £4.5m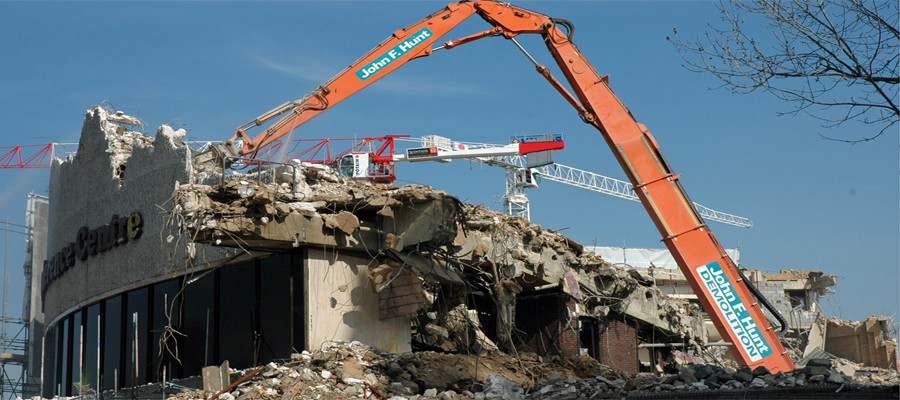 Overview
Existing Structure & Location:
Demolition of the massive Wembley Conference Centre, which included two Exhibition Halls, linked footbridges, office blocks and underground car parks.
The 1969 Conference Centre was a circular structure 240m in circumference with 5 metre deep complex steel trusses spanning 80 metres and totaling 5,608m².  Adjoining the CC was the 722m² Greenwich Rooms and triangular 6,430m² Elvin House, a reinforced concrete 2 storey office complex.  A pedestrian link bridge joined Elvin House to Exhibition Hall 1 requiring 6,587m² of demolition and Exhibition Hall 2 totaled 6,017m² with a pedestrian link bridge to the old Wembley Stadium.
To achieve the tight programme requirements, soft strip, asbestos removal and scaffolding were all carefully phased to permit demolition of the various structures to commence at the earliest opportunity.
Scope of Works
Initially, demolition began on Exhibition Halls 1 & 2, followed by the Conference Centre, which was handed over two months later and finally, Elvin House the following month.
Elvin House remained occupied for three months after the works started on site.
At the planning stage, each building or section thereof, was subject to a detailed method specific risk assessment – the assessment identified the demolition methods to be employed.
Whilst works neared completion, we were awarded a further area of the site, which did not form part of the original contract.
The demolition of the Conference Centre involved retaining the front house at low level to support the under-croft, which held up the vehicular road.
This route was subsequently closed and handed to us to remove the lower level structure and the road area.
Comments
Throughout the project, we recruited local workers using a local recruitment agency, allowing us to give back to the community by way of training and creating opportunity. Almost 100% of soft strip was recycled and 100% of the concrete was crushed for re-use.
To keep dust migration down on this size of project (30,000m²), we were using water suppression at a rate of 3m3 per day.
We achieved a high level of compliance on our Considerate Contractors Scheme Report –  a status rarely achieved