Client : Galliard Homes
Programme : 24 Weeks
Value : £2 M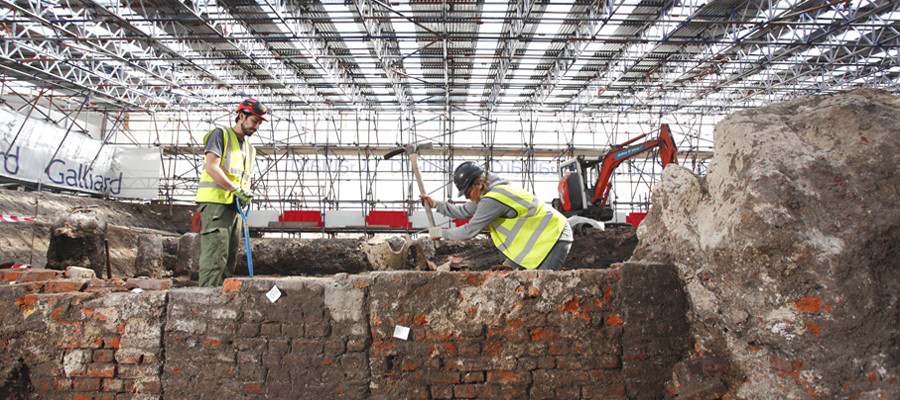 Overview

This substantial one hectare site is located along Curtain Road in the busy area of Shoreditch and contains interesting and substantial historic interest.
The project involved the demolition of two eight storey office structures together with various low level offices and warehouses covering the remainder of the site, with three potentially unstable listed buildings to be protected along Curtain Road.
Scope of Works
Removal of all asbestos material contained within the various structures.
Removal of contaminated materials from the various 19th century warehouse units.
Demolition of all structures down to the top of the existing ground bearing slab using floor by floor techniques to the eight storey buildings and use of larger plant to demolish the warehouse areas from ground floor level.
Removal of the ground floor slab, the partial basement slab and the subsequent reduce level excavation to allow for the supply and lay of a piling mat.
Design and installation of temporary works to retain the stability of the three small listed buildings along Curtain Road.
Due to the remains of Shakespeare's Curtain Theatre dating back to 1577, allowance was made to provide safe access for the archaeologists to undertake excavations to the north of the site to expose the remains of the theatre. We also excavated of four 20m long x 4m deep pits with Mola to assess the extent of archaeological interest.
A considerable number of existing office developments surrounded the site and as a consequence the continuous monitoring of both noise and vibration together with potential dust transmission was a very important issue and was closely managed.
Disposal wagon movements to and from site were significantly reduced as a consequence of conducting 'on site' concrete crushing of demolition arings ready for its reuse as a piling mat material.
Continuous monitoring of the condition of the existing material beneath the ground slab for contaminants was necessary due to the historical use of the site.
Comments
We developed excellent relationships with neighbouring property owners and businesses, developing open lines of communication which will prove invaluable to the client during the course of the new construction works.
98% of all demolition waste generated from our demolition activities were either recycled, reclaimed or reused.
The project was successfully executed in a sympathetic manner to allow Mola to undertake their works, consisting of the careful excavation of the remains of Shakespeare's 'Curtain Theatre'.