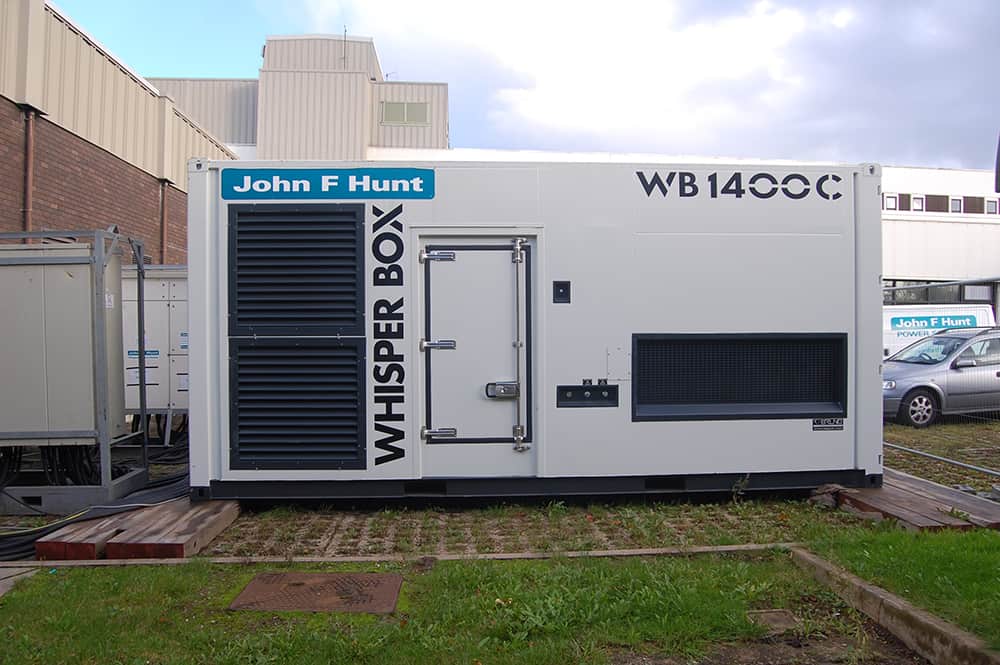 John F Hunt is pleased to announce that they have now acquired 4 brand new Bruno GQ1400C Whisper Box sets. Each unit is housed in a custom built 20ft container that delivers prime power at an ultra-quiet 77db@1m (at 100% load). One of the key features of the layout is that the Cummins KTA 50 G3 can deliver power at a much higher rating of 1295KVA (compared to the standard power rating of 1250KVA).
The Whisper Box is split into compartments, with the new radiator system located in a separate area that is cooled by a remote variable speed triple fan system. The unique design of the unit means that on average 9 litres of fuel are saved every hour when compared to a standard unit. A further benefit of the compartmental design is that it significantly reduces airflow around the engine and alternator, meaning less airborne contaminants such as salt and dust enter the engine compartment. Such features are of significant importance when supplying power to full rig safe DNV for use offshore.
John F Hunt's Operations Director, Richard Denbury said "I am amazed at the new design especially the noise level of the unit – the fuel saving is a real bonus for us in offering our new units against our competitors. We have worked with BGG for some years now and their approach to reducing noise levels throughout their product range shows their determination to be leading the field in this area" For more information on hiring our Whisper Box units, please call our Power division on: Southern Depot 01375 366766 West Midlands Depot 0121 559 1818 North East Depot 0191 4111 200 or email us at power@johnfhunt.co.uk.