Structures
John F Hunt construction teams work with you to design, develop and build bespoke concrete sub-structures, cores and super-structures to the highest of standards.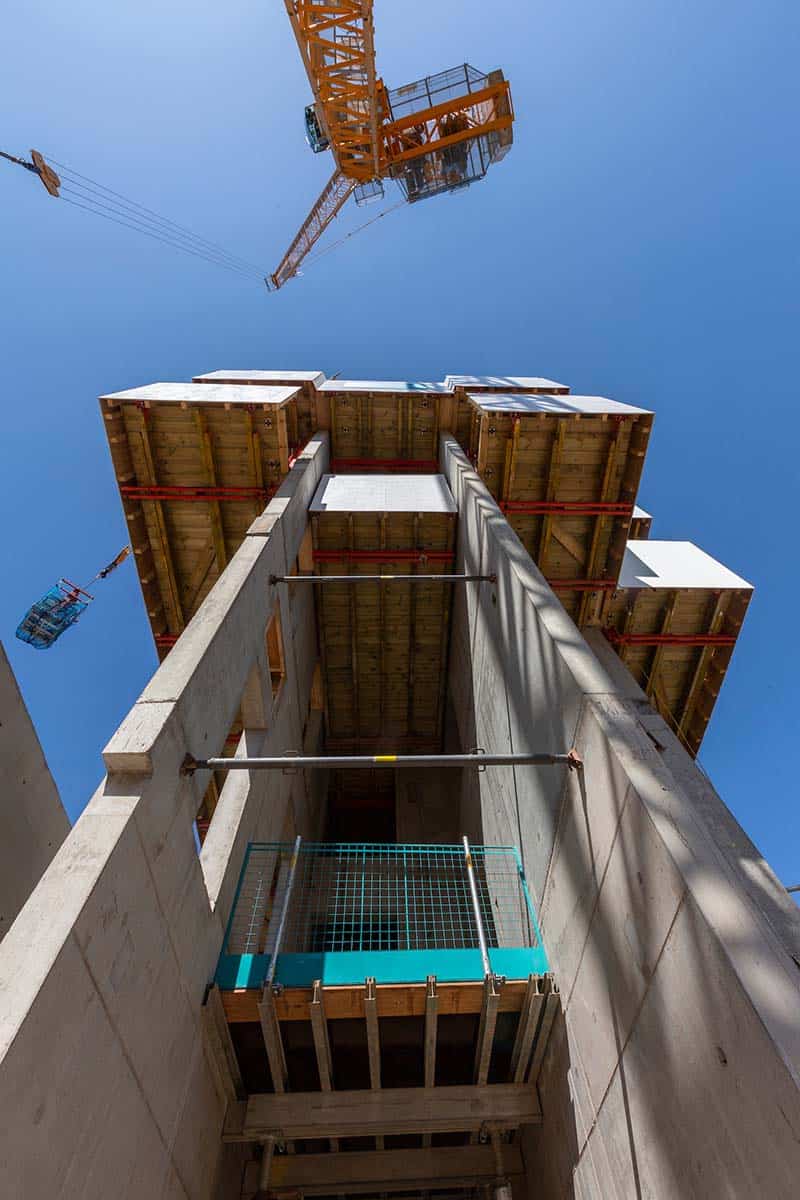 Our in-house engineering design and construction teams understand the specific, technical complexities and logistical needs of complicated construction projects and advise you and your stakeholders of the most appropriate build system to suit your exact requirements.
Specialising in jump and slipform construction, we collaborate with you to develop bespoke structures. The engineered formwork system we employ gives us precise, efficient build capabilities and immediate adjustment options, whilst the enclosed working area provides an excellent and safe platform for our construction teams and supplies.
We create custom made formwork for projects, supplying you with calculated, to-scale models, for clear vision and understanding, using our 3D and BIM technology.
Jump & Slip Form Core Solutions
Horizontal & Vertical Panel Systems
One Sided Retaining RC Walls
RC Superstructure Construction including PT and High Rise
Infrastructure works including District Heating
Drainage installation – cast iron, clay, plastic, large diameter

Sub-Structures & Basements
Due to rising costs and lack of space in major cities, clients are looking for deep but safe solutions below ground.
Our in-house engineering team specialise in providing bespoke substructures and reinforced concrete construction services. Often employed as Principal Contractor, we take complex projects and offer problem solving solutions from job concept, through enabling, bulk earthworks and support works, to the completion of basement boxes.
Following a thorough assessment of risks posed by site conditions, we supply geo-technical information based on soil make up and ground stability, and advise on the best pre-construction option.
Much of our work is carried out in the City of London, where the challenge of tight site footprints, logistics, underground rail, waterways and busy pedestrian areas are ever present. Our professional teams liaise seamlessly with multiple stakeholders, Network Rail, LUL, Transport for London and Historic England when required, to deliver multi-dimensional projects.
Deep multi storey basement excavations
Contiguous/Secant/Sheet piled walls
Construction (incl. waterproofing)
RC Raft and pile cap construction
One sided retaining RC walls
Basement box construction
John F Hunt Group - London Road, Grays, Essex, RM20 4DB
Tel: +44 (0)1375 366 700
Email: John F Hunt Info