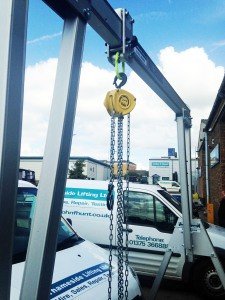 Thameside Lifting, part of the John F Hunt Group, have just invested in a small size Reid Porta Gantry to add to its vast stock of hire equipment.
Mick Hood, Thameside's Manager says 'there has always been an issue in squeezing the larger standard size gantry's into tight spaces. With very few small sized gantries available in any of the different hire companies across the South of England, this little 'gem' has been a valuable asset'.
With a working load capacity of 2000kg, the Porta Gantry is perfect for low or confined working spaces, and with its lockable wheels it is easily moved around any site.
The size of the Reid Porta Gantry can be seen from the below photographs which have been taken next to one of our vans to give you an indication of scale, both at its lowest point and highest.
To hire the Porta Gantry simply call us on 01375 366888.