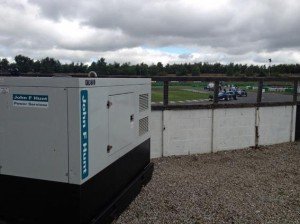 John F Hunt Power Ltd supplied a Power & Lighting solution to a popular race circuit based in the North West of England that offers a range of exciting karting events and driving experiences throughout the year for both groups and individuals alike, and is regularly used as a venue for meetings and events. Last year, as the winter months started to draw in, the staff at the race circuit faced a dilemma.
With the days becoming shorter and darker, the lighting became inadequate for the racing and events to continue to take place at the circuit, particularly in the evenings. The Power division supported the Race Circuit by assisting with all their power and lighting requirements throughout the winter period.
The circuit required one generator, along with six lighting towers to enable the drivers, support staff, family and friends to continue racing safely into the night. For more information on hiring our generators or lighting towers, please call the John F Hunt Power team on 01375 36676.