Fundraising in aid of charity, Hatties Heroes (a children's cancer charity), Nick will be challenging himself to take part in the Chiltern 100, Tour of Wessex and the Marmotte – the ultimate European sportive! Read more below and please do support Nick and this fantastic cause > http://bit.ly/1UwIDDG.
15th May – Chiltern 100 (177km) http://humanrace.co.uk/event/chiltern-100-sportive/ One of the highest rated major sportives in the UK, the event still maintains a club-like atmosphere and camaraderie. The challenging landscape of the Chilterns means that the 76 mile and 110 mile routes are as testing as they are stunning, both taking in infamous climbs such as Whiteleaf Hill and Wardrobes. The event will be delivered in partnership with VCC, the club who set it up eight years ago and made it the esteemed sportive it is today. Prostate Cancer are the official charity for the Chiltern 100 Sportive. 28th – 30th May – Tour of Wessex (536Km) The Tour of Wessex is one of the biggest multi stage cyclosportives in the World. Expect quintessentially English countryside though the lanes and byways of the South West. Each individual stage has its own unique mix of monuments, history and challenging terrain which sets it apart from other events; add the challenge of riding three days back to back and you have truly unique event. Choose from 330 miles, 225 miles or ride an individual stage.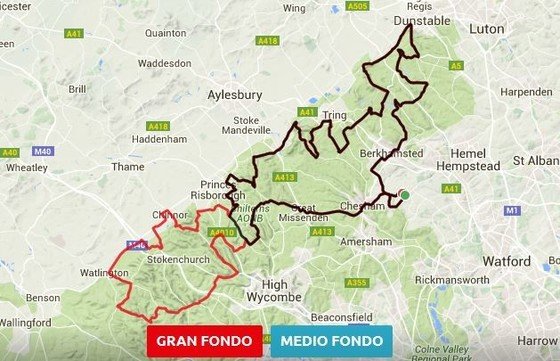 2nd July – The Marmotte http://www.sportcommunication.com/ For many sportive riders the Marmotte is the ultimate European sportive. Around 7,500 riders take part each year on the first Saturday in July, with the fastest riders completing in around 5 hours 45 minutes and the slowest taking anything up to 14 hours. La Marmotte features three HC climbs over its 174km route and has a total of 5,180 metres of climbing, making it one of the toughest courses of any sportive in the world.
La Marmotte starts with a climbs of the Col du Glandon, which weighs in at 27.5km with an average gradient of 4.5% to a height of 1924 metres. From there you drop down (on a route so steep that it is not included in your overall time to try and stop riders from dangerously speeding) to the start of the Col du Telegraph. That leads to the Col du Galibier, one of the most famous climbs in worldwide cycling. The Telegraph/Galibier combination is 35km of almost continuous climbing at an average gradient of 5.48% to a height of 2642 metres. Towards the top of the Galibier the gradient gets up to 15% and on a windy or cold day it is brutal. Then follows a rapid 47km descent to Bourg d'Oisans and the start of a final ascent of the 21 hairpin bends of Alpe d'Huez. For all but the elite riders this is usually a major struggle as the sun will be baking in the early afternoon – the 2013 Marmotte saw riders experience 44 degrees centigrade heat on this climb. Please support Nick and this fantastic cause on his JustGiving page here > http://bit.ly/1UwIDDG