John F Hunt has recently taken delivery of 4 new PC210-10 Komatsu Excavators fitted with the latest specification engines, to meet increasing customer and site demands. The powerful and fuel efficient engines deliver 123KW / 165HP and are EU Stage IIIB/EPA Tier 4 interim certified.
The SAA6D107E-2 engine is turbo charged, featuring direct fuel injection, air-to-air after cooling and cooled Exhaust Gas Recirculation (EGR). The Komatsu Excavator is environmentally friendly, and features variable speed matching of the engine and hydraulic pump, with automatic low idling. This new control technology lowers fuel consumption and guarantees efficiency and precision during single and combined movements.
The dash 10 machine is ideal for a wide range of applications, and with 6 working modes offers the ultimate in operator control, whilst providing the highest level of operator comfort with low noise and vibration levels. Site safety and minimising risks to personnel in and around the Komatsu excavator is paramount.
In addition to the standard safety features these machines have low profile rear view cameras, reduced tail swing, falling object protection (FOPS), and a seat belt warning light system. The excavators are also fitted with engine compartment safety rails (Boxing Ring) to make the operators daily maintenance as safe as possible.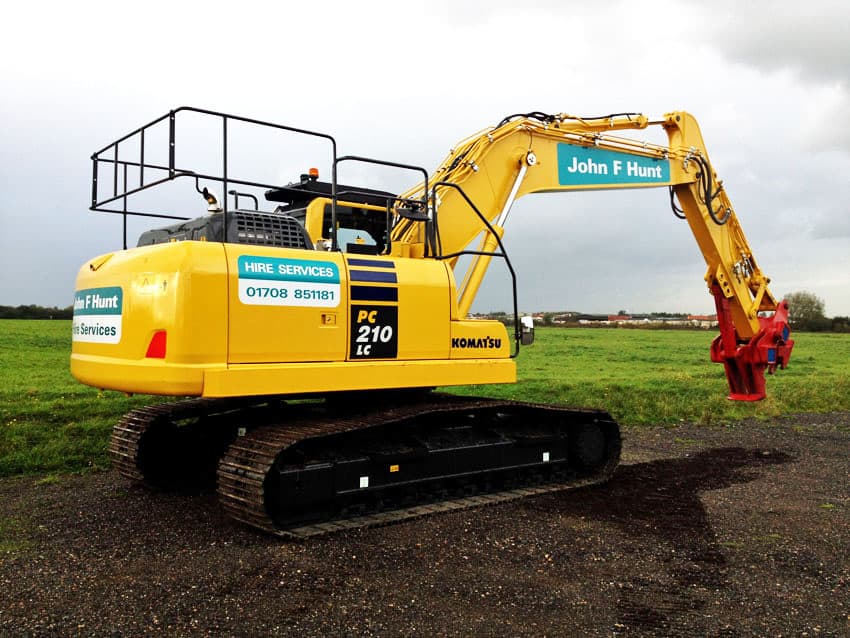 The excavators are all piped for hydraulic quick hitch couplers making it easier to switch buckets or attachments whilst on site and are available with the standard 2.9 metre dipper arm. For specialist applications a 1.8 metre dipper arm can be substituted to allow the use of hydraulic attachments normally reserved for excavators up to 45 tonne.
The demolition specification "extras" includes cab guard, bucket ram guard, heavy duty belly plates, protective side skirts and hydraulic attachment circuits such as breaker, open / close and rotation. For further details on hiring our PC210-10 Komatsu Excavators, please contact the Hire Office on 01708 851181.