Barking Riverside Extension enabling works demolition is part of a ½ billion pound infrastructure project in order to provide transport links to the new 11,000 homes currently be built in the area. The demolition programme will allow the construction of an extension to TfL's London Overground system, once the new station has been complied the residents will , they will enjoy a 22 minute commute to central London.
Our works comprised of relocation of existing Overhead Line Equipment (OLE), and demolition of a redundant ramp structure and foundations sandwiched between the main lines from Fenchurch Street Station during the Easter weekend and two preceding weekends, along with demolition of five building including the old P&O offices for the container port.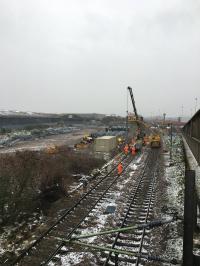 The works where completed with our own staff carrying out the management and demolition operations, all staff worked a single team which lead to a successful series of possession and all works completed to our hour by hour programme, despite the weather conditions including snow, gales and heavy rain. Our combined team approach working closes with the client has was lead to praise from the members of the client team and senior management within TfL.
We use a combination of our own tracked plant to carry out the demolition and removal of the foundations, all completed with the possession period. We used our own fleet of in house plant which came to site serviced prior to delivery with our fitters remaining on standby during the period with only a single hose to be replaced during 154 hour period.