John F Hunt Power Ltd were chosen to supply quiet power to one of London's most anticipated and hottest Fashion shows during the 2014 "London Fashion Week".
The equipment supplied supported the whole show, stage lighting, hair & make up, production, air conditioning/heating and most importantly the after show party! Two of our brand new 800 kVA synchronised generators, from probably the most up to date generator fleet in the UK, were delivered on one of our artic trailers.
The two sets were positioned, neatly tucked away, outside the historical building in Westminster, a stone's throw away form the Houses of Parliament.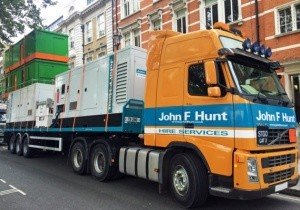 Part of the turn key package was the installation and management of the whole distribution network, including the set up & synchronising of the sets, assisting in the installation of the mains distribution unit and onsite equipment management during the event.
After a brilliantly successful fashion show, both the designer and client expressed their gratitude to the staff and professionalism of John F Hunt Power Ltd, resulting in the client booking the same package for another show early next year. Carl Wakefield – Sales Director