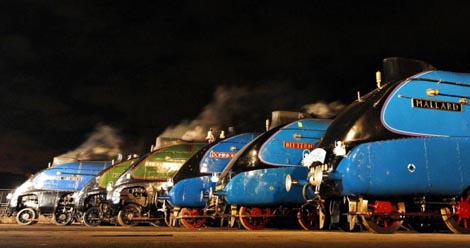 Last month, the fastest ever steam locomotive 'No. 4468 Mallard' was finally reunited with it's five 'sisters' for the first time in half a century, at the National Museum in Shildon, County Durham. Back in 1938 the 'No. 4468 Mallard' broke an all-time record for a steam engine when it hit 126mph at Stoke Bank near Grantham in Lincolnshire.
Two of the other locomotives, the 'Dwight D. Eisenhower' and the 'Dominion of Canada' are currently on a 2-year loan from American and Canadian museums to the UK's National Railway Musuem. The locomotives eventually arrived in the UK in October after a long and challenging trip across the Atlantic. The 'Great Goodbye' event that took place marked the 75th anniversary of the No. 4468 Mallard's record, and was celebrated by bringing together the remaining survivors of a 35-strong class of locomotives that were originally designed back in the 1930s.
It was the last time that all six of these magnificent steam engines will ever be reunited. Such a rare and spectacular event, attracted over 106,000 visitors not only from the UK but from all around the world. It was a cherished and emotional experience, particularly for those that had ridden or worked on the trains in the past.
John F Hunt Power supplied the generators for the event so that power could be distributed to the VIP area, stage and support coaches. Lighting towers were also setup to enable photographers and enthusiasts alike to continue capturing the moment right into the late hours of the evening. For more information on how John F Hunt can manage the power for your event, contact the team on 01375 36676, or alternatively you can email them at power@johnfhunt.co.uk