Temporary Works London Solution At the John F Hunt Group, we frequently encounter situations that require creative and cost effective solutions.
A recent example is our congested Broadgate site in central London. We needed to safely support the weight of a 100 Tonne Piling Rig, which had to operate close to a steep open face. We used our expertise and knowledge as a leading demolition company in London, and opted for the 'TensarTech TR2 Wall System'.
The wall system formed a temporary vertical faced bund of over 6m high to support the massive piling rig, with a track pressure of 350kPa. The bund was formed from steel mesh panels with a granular fill, to which layers of Tensar uniaxial structural geogrids were connected. The face was lined with a robust needle punched geotextile to prevent loss of the recycled granular fill material (HA Class 6F2 Capping) through the mesh openings.
Having carried out load case analysis on a number of areas, our team of operatives, guided by a Tensar engineer, installed the wall system. The geogrid strength was checked by placing the tracks in increments of 0.5m, successively closer to the edge, until they were only 1m away from the open face.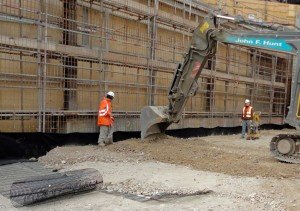 Normally the critical case for sliding would occur when the rig is positioned at the rear of the reinforced earth structure. However, since the rig wouldn't be operated in this position, a lower pressure could be applied, ensuring the most economic solution. We chose the TensarTech TR2 Wall System, as it was the most robust and cost effective option. In this case, due to the temporary nature of the retaining structure, appearance was not a primary concern.
Our Project Manager on Number 5 Broadgate, Chris Toseland commented, '…the TensarTech system was simple to build and using our own operatives we quickly mastered the installation technique and work progressed to plan….' As demolition contractors in London, finding cost effective and innovative solutions to the problems we encounter on site is a priority for us.
They keep projects on budget and on time for our clients, allowing us to provide the best demolition services and value. To find out more about the services we offer, please visit our Demolitions page, or call us at 01375 366700.