I joined John F Hunt as a Graduate Engineer in July 2020.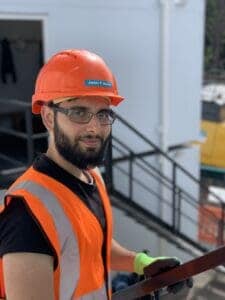 Having previously undertaken three placements in the consulting sector (structural engineering design in Bridges and also the Building Structures Team), I was really excited to join JFH to learn and experience the "other" side of engineering (site).
On site, it is a much more dynamic environment, and I am extensively involved in the contribution of this project. The nature of work on site means that many changes occur in a short period of time which is amazing for me as a Graduate Engineer as it aids me towards growth and development. Thanks to JFH, I now feel more of a well-rounded engineer having experienced and worked in both the consulting and contracting industry.
Being surrounded by a supportive team including Mike Weller and Davinder Singh Reehal has allowed me to not only enhance my engineering skills and knowledge, but also obtain support in working towards a Chartered Engineer status.
What Does the Project Involve?
I am currently based in the Ebury Bridge Estate site which is a £350 million project involving the demolition of 1930's buildings and thereafter the re-construction of 758 high-quality and energy-efficient homes (half of which will be affordable).
This project will be the largest development of new council and affordable homes in south Westminster. This project not only aligns with Westminster City Council's aim to reach zero carbon by 2040 but also meets the high sustainability standards including an excellent BREAM rating and meets 17 UN's Sustainability Development goals.
My Contribution:
My role and contribution to this project increases by day as I take on more roles and responsibility. As an engineer your role isn't limited to one thing which means that there are plenty of opportunities to develop on different aspects and get a well-rounded experience. Some of the roles I had the opportunity in undertaking involved (but are not limited to):
Supervising works on site
Undertaking surveying tasks on site
Assisting managers and supervisors by providing recommendations and solutions
Creating detailed records of progress of works
Liaising with other members of the team including managing directors
Ensuring health and safety standards are maintained on site
I am very pleased to know that I am involved in positively impacting a project that will not only greatly benefit the communities living in the heart of London, but will also contribute towards a sustainable future. There are plenty of opportunities for growth and development at JFH and I am excited for what the future holds.
References:
[1]: Facts on project can be found here:  https://www.pbctoday.co.uk/news/planning-construction-news/ebury-bridge-estate-renewal/76139/