Last month, John F Hunt Concrete Cutting took possession of the first 'Tier 4' compliant Floor Saw in the UK, manufactured by Husqvarna. Our Floor Saw is now available for hire, and is a brilliant addition to the rest of our Concrete Cutting equipment.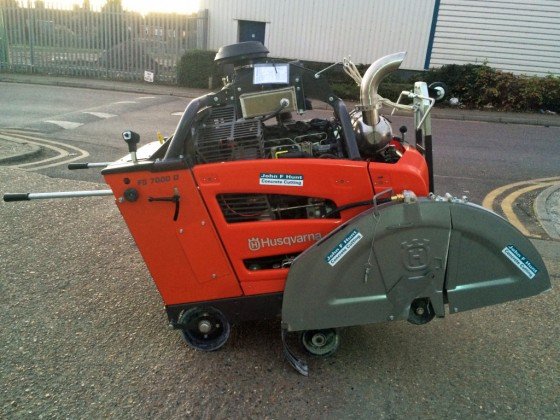 The FS 7000 D Floor Saw is a large and powerful walk-behind flat saw for road work, large sawing jobs, deep floor sawing and mid-size jobs that require high production rates.
The high output, compact size and good manoeuvrability makes it highly versatile and extremely cost effective. It is compliant with the Tier 4 (Stage IIIB) emissions regulation, which makes it an excellent piece of equipment for more enclosed areas.
The control panel is easily operated and monitored, therefore checking blade rpm, forward speed, depth gauge and run time is clear and instant. The adjustable, telescopic pointer provides a first class guide whilst cutting and can be folded away during transportation.
The unit has a blade diameter range of 500-1000mm, a maximum cutting depth of 411mm and weighs in at 1032kg with the dimensions 1961 x 974 x 1499mm, making it an excellent addition to the Concrete Cutting equipment range.