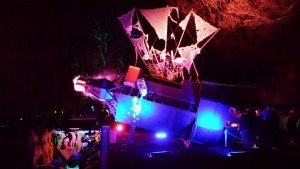 John F Hunt Power, Birtley depot supplied their Event Power Services for the second year running at the Enchanted Park at Saltwell Park, Gateshead.
Enchanted park is now in its 9th year and is an 'innovation after dark arts adventure' which sees Gateshead Saltwell Park transformed through visual arts, performance and interactive works.
This year's event told the story of Estella, a young girl who lived inside Saltwell Towers and who was fascinated by the stars that shone brightly above her, as to Estella the turrets of Saltwell Towers became her very own observatory.
Her quest to be among the stars brought some out-of-this-world surprises to Saltwell Park in the form of light. More than 21,000 people visited the Enchanted Park over its five night run, with the last show having been pronounced the best so far! Time will only tell what next year's show will be about, but John F Hunt look forward to supplying the power for it again!