Client : Crossrail
Programme : 18 Months
Value : £6.3m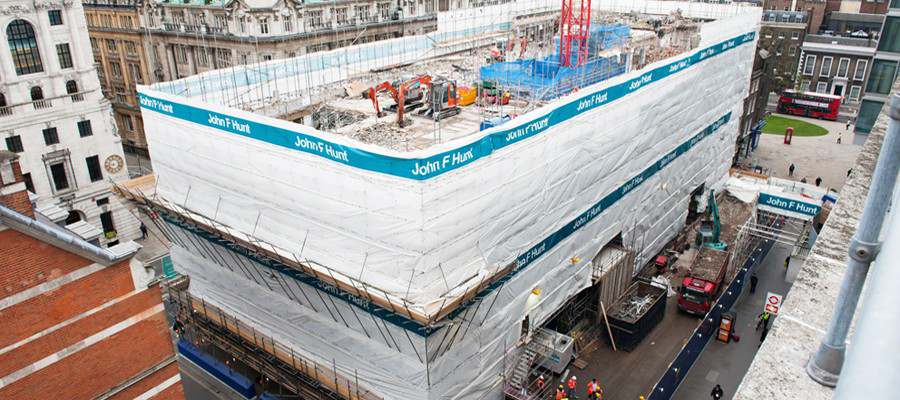 Overview
The Liverpool Street Crossrail project was split into three separate site locations, all were within close proximity of Liverpool Street or Moorgate Station.
Each site had its own challenges but all were immediately adjacent to the live LU assets which we had to protect and maintain throughout our works.
This high profile project was undertaken direct for Crossrail with us taking the Principle Contractors role, we were responsible for liaison with LU, Network rail and the City of London throughout our works.
All of the structures to be demolished were between six and seven storey's in high and previously used as commercial office space, the individual sites were referred to as Blomfield Street, Moorfields and Moorgate.
Scope of Works
Moorfields
The demolition of the Moorefield's structure was undertaken on a floor by floor basis with 7 ton excavators, the existing RC structure was heavily reinforced and specialist attachments were used to process the structure reducing the need for percussive methods.
One of the challenges with this structure was the location of the Metropolitan line tunnel immediately beneath the basement slab, noise, vibration and movement became was a key issue throughout the demolition process and had to be continuously monitored.
Our methodology and management ensured that all LUL assets remained protected throughout.
Moorgate
The Moorgate office building was demolished directly over the live station ticket hall, at the outset of the project our team designed and installed a full protection deck over the LU asset to ensure public safety throughout our works.
During the survey stages of the project we discovered considerable sprayed flock asbestos within the basement area, this material had to be removed under fully controlled conditions. The extent of removal was such that we instigated a 24/7 removal team for a 12 week duration to maintain programme.
Again the demolition process was undertaken on a floor by floor basis with the assistance of an on site tower crane, the installation of the crane significantly improved the site logistics as space was a premium.
Blomfield Street
The Blomfield Street building was situated immediately adjacent to an above ground section of the Metropolitan Line tube, our team had to design and install a temporary protection deck to not only protect the LU asset but also to support the demolition scaffolding to the building.
This building was demolished on a floor by floor basis with all materials being discharged internally within the structure, a conveyor system would then remove all materials from basement level up to a first floor disposal gantry in Blomfield Street.
Comments
All projects completed on time and within budget.