Client : Vinci Construction UK
Programme : 36 months
Value : £9.4 M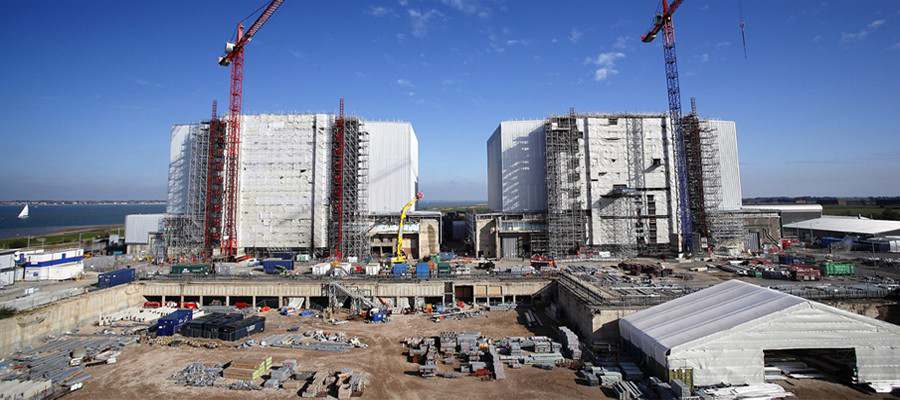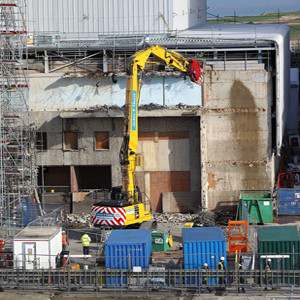 Overview:
Bradwell, located in the South East of England, covers an area of 20 hectares. The nuclear power station operated from 1962 until 2002 when works ceased.
During its operational years enough electricity was generated to meet the needs of three towns the size of Chelmsford, Colchester and Southend combined.
Twin reactors contained within the two separate buildings have undergone decommissioning to remove both radioactive and non-radioactive plant and structures.
Scope of Works:
John F Hunt Demolition was appointed to assist in preparing the site for entry into a Care and Maintenance programme. Our work enables the project to be left in a state of dormancy, allowing radiation levels in the reactor areas to perish naturally, permitting a safer and coherent removal.
Contained with the reactor buildings were two boiler houses and two circular halls of c.26,000 sq.m
Included within our scope of works was the removal and off-site disposal of all cladding, glazing and masonry infill to the elevations of the boiler house and reactors.
The removal of radioactive structures included a contaminated bridge between the power station circulator hall and a radioactive drum store.
Demolition took place to the Central Change building, the first structure to be demolished within the Radiation Control Area (RCA).
All debris generated was subject to radiological clearance, this required carefully planned logistics on the ground level to ensure that all waste was tagged and its stages of removal & clearance were carefully logged.
Environmental:
The buildings contained a large amount of asbestos debris,which could only be removed under controlled conditions as the cladding was removed. During this process the weather protection of the reactor building had to be maintained at all times.
Upon completion, the regulations regarding human health and groundwater across the entire site must be met.
Comments
Due to the high level of risks involved, this project created close working relationships with the Nuclear Decommissioning Authority and Health and Safety Executives on methods of demolition and the sequencing of our works.
It is the first time any demolition has been be carried out within a 'Radiation Control Area' throughout the country.