Client : Marick
Programme : 36 weeks
Value : £2.3m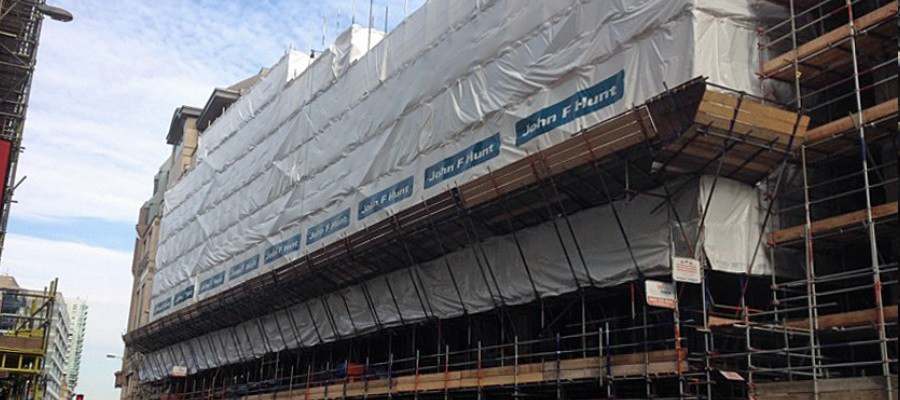 Overview
Located along the densely pedestrianised area of Fenchurch Street adjacent to both Fenchurch Street Station and the busy area of Aldgate. The project comprised of the demolition of the main building which incorporated a large reinforced concrete six storey structure, together with a number of smaller and much older buildings, down to the underside of the existing basement slab.
Scope of Work
Archaeological interest in the project resulted in a six week investigation period carried out by Mola, to establish the extent of its historical importance. Upon completion of the investigations Mola continued with a 'watching brief' during the course of the excavation works.
Removal of existing asbestos together with the soft strip and demolition of the structure down to the underside of basement slab.
Design and installation of a temporary works scheme in agreement with Mola, so as not to disturb potential finds. This allowed the continuation of safe archaeological works.
To enable the piling works to commence, sections of the retained lower basement slab were removed in a sequential manner to ensure the stability of the existing retaining walls.
Demolition of the basement slab & sectional reduced level dig.
Substructure works involved the underpinning of areas of the perimeter & party wall, the design and installation of a skin wall, pile probing to the site, together with the provision of a 1m thick piling mat to enable the piling contractors to commence work.
Due to the sensitive location of the project an extensive noise and vibration monitoring regime was installed to constantly record activity, immediately relaying any exceedance via text to the John F Hunt Management team.
Throughout the project, extensive discussion and liaison was conducted with neighbouring businesses by our site management team, to
ensure that potential neighbourly issues were dealt with in good time. This included formally introducing ourselves, explaining our proposed works, the issuing of regular newsletters detailing our progress, arranging monthly 'surgery' sessions and conducting brief presentations on how the demolition works would be carried out.
The constant review of working hours to specific areas of neighbourly concern were addressed in an effort to minimise disturbance.
Comments
Awarded the 'Performance Beyond Compliance' certification from the 'Considerate Constructors Scheme'.
Completion of the works with minimal disruption to neighbours and within our initial programme.
Highly commended by the client in achieving a challenging programme, managing the difficult site constraints and delivering the project within the agreed cost.
Our strong relationship with the City of London representatives proved very beneficial in assisting with both pedestrian and traffic management strategies.