Client : British Land
Programme : 70 weeks
Value : £6.5 M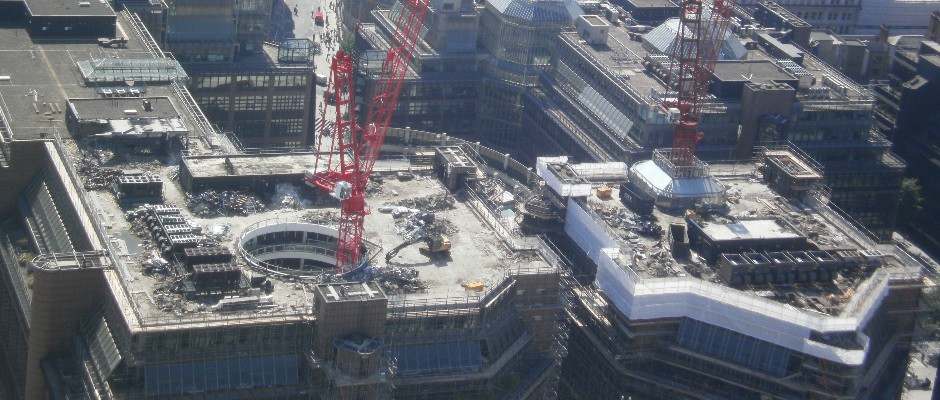 Overview
This high profile project direct for British Land represented the first buildings to be demolished within the iconic 1980's built Broadgate Circle Development and were the original headquarters for UBS, ICAP & Deutche Bank. The lightweight, steel framed, marble clad structures were located adjacent to the busy Liverpool Street mainline Station.
Scope of Works
The demolition of two 8 storey steel frame structures that integrated with the neighbouring buildings of Broadgate Circle at podium level. This meant vibration transmission to adjoining offices through the network of steel during the works, would need to be carefully controlled.
Stage 1 of the project involved the removal of asbestos and the soft strip of both buildings.
Stage 2 included the demolition of the buildings down to the underside of the existing basement slab, exposing and severing the steel frame as the works proceeded.
Part of the structure encompassed the TFL turning circle for buses. The design of extensive temporary works, enabled John F Hunt to demolish the building above the bus turning circle without any disruption to the operation of the bus services.
The buildings incorporated one of the first composite floor constructions of its type and featured large floor bay spans, low ceiling heights & an external façade consisting of stone clad panels.
Employment of non-percussive equipment, rather than pneumatic impact breakers reduced noise and vibration transmission.
Installation of an extensive noise, dust & vibration monitoring regime to all the
structures and neighbouring properties, incorporating 'real-time' continuous monitoring.
The use of pulverising techniques, the cutting and lifting of the structure and enclosed dampers below crash deck areas, all assisted in reducing noise and vibration.
Two Wolff 500B luffing jib tower cranes were
installed to the centre of each building to service the demolition works.
A temporary protection tunnel / gantry enabled the basement gyratory system to maintain operational during the course of the demolition process, along with the provision of a separate protective walkway.
This project required the employment of 70 demolition operatives working on a floor by floor sequential manner.
The demolition methods included the use of 10T excavators with 2T pulveriser attachments lifted into position on the upper floors by tower crane.
Finally we prepared the ground with a suitable material to allow for the supply and installation of a 500mm thick piling mat.
Conclusion / Key Achievements:
John F Hunt Demolition Ltd were awarded the prestigious 'Considerate Contractors Gold Award' by the City of London, recognising our Code of Good Practice.
Successful completion of the of the demolition works causing minimal disruption to the adjoining financial institutions.
The project was successfully completed within programme and budget to the satisfaction of the client's and his consultants.