Client : Saxon Land
Programme : 72 weeks
Value : £11.2 M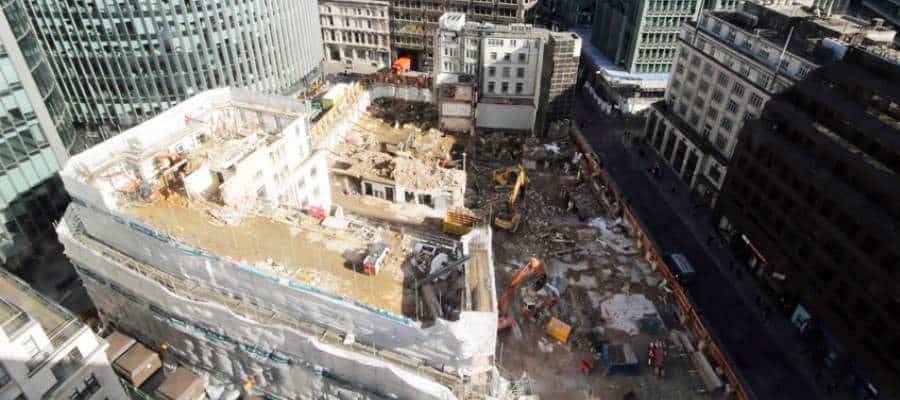 Overview
The Fenchurch Avenue project is located close to Fenchurch Street Station within a busy area of the City of London.
The demolition of No.10, 12 through to 14 Fenchurch Avenue, along with No.117, 118, 119 and 120 Fenchurch Street, down to the underside of the existing single basement slab. Due to the variety of constructions styles involved, both floor by floor and long reach demolition was used, which also ensured minimum impact to the surrounding offices.
Scope of Work
Removal of substantial asbestos and the structural demolition down to the top of basement slab of 10 & 12 -14 Fenchurch Avenue and 117,118,119 and 120 Fenchurch Street.
Installation of a complicated basement temporary works scheme, to retain the stability of the existing perimeter basement retaining walls.
Removal of existing foundations to the perimeter of the site to allow for the installation of the secant piled wall.
The careful excavation of the site between the existing pad foundations, with MOLA in attendance, to a further 2m in depth and subsequent filling back up to a piling mat level.
Five live network sub-stations were present, all of which required constant protection during the course of the demolition works and the implementation of 'gentle' demolition methods to avoid excessive vibration.
Due to the sensitive location of the project a 'real–time' noise and vibration monitoring regime was installed immediately. Should limits be exceeded, information would be instantly sent via text to our management team for action.
2 No. large concrete culverts incorporating support decking to house the temporary substations and cabling were constructed.
A demolition strategy was created to allow the existing Nat West Bank, located within the site boundary, to continue operating unaffected during the demolition period. This also required the use of specific noise and vibration monitoring to this area.
Throughout the project extensive discussions and meetings with neighbouring business were conducted by our site management team to ensure that potential neighbourly issues were dealt with in good time. This included visiting neighbouring businesses to introduce ourselves, the production of regular newsletters, arranging monthly 'surgery' sessions and holding brief presentations regarding proposals of when and how demolition works would be carried out.
Comments
Awarded 'Performance Beyond Compliance' from the Considerate Constructors Scheme.
We worked with Tower Hamlet's College by providing work experience for the long term unemployed.
Awarded City of London Considerate Contractors 'Highly Commended Gold Award.
Completion of the works with minimal disruption to neighbours and within programme.