Client : Aquila Holdings Limited
Programme : 13 month
Value : £9m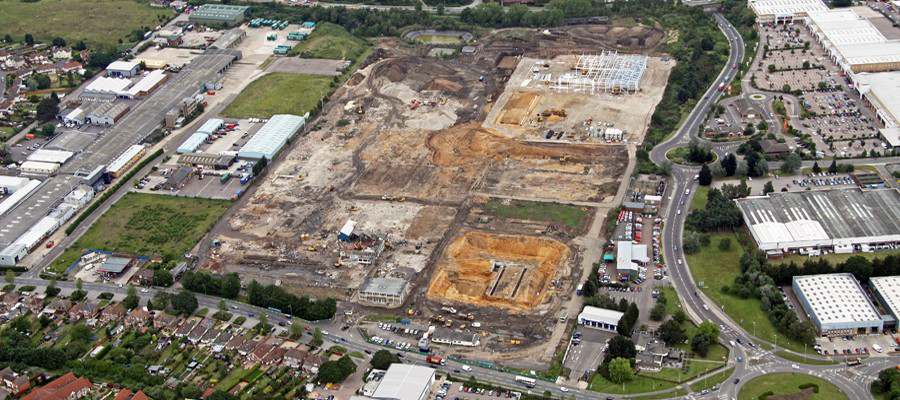 Overview
Historically, the site was occupied by Ransoms Cranes works, manufacturers of overhead and mobile cranes, which by 1926 had extended across much of the 44 acre site. It included its own foundry/steel works, various sized industrial manufacturing buildings, which included chimneys, storage tanks, travelling cranes and railway sidings evident at different stages of operation. Waste disposal activities, including hazardous wastes had also occurred on site, including its own landfill area, lagoon storage and baling/compaction.
The site was covered by IPC/IPPC permits for potentially harmful emissions and Water Industry Act Referral, hence a series of compliance investigations and audits were undertaken during the period of operation and post closure (circa 2007).
Scope of Works
As Principal Contractor for demolition, remediation & infrastructure, John F Hunt works included the demolition, remediation & enabling works for the redevelopment of the site ready for commercial & retail use.
Notifiable asbestos was removed within a significant percentage of the buildings & the poor quality asbestos cement roof sheets were also removed from all industrial buildings by mechanical plant using controlled demolition techniques.
To satisfy planning conditions, site wide remediation & verification under the current Part IIA framework was required. Ecological protection works were also required to satisfy planning conditions.
Following Local Authority and Environment Agency approval of the Remediation Strategy, earthworks & remediation began in April 2012 under a Materials Management Plan & Mobile Treatment Plant Licence, starting with the John Lewis/Waitrose plot followed by the road, footpath & planting areas.
The objective of the project was to remediate & treat the site & ensure it was suitable for future intended commercial use. The client's objective was to prepare the site for re-development.
Due to the dilapidated state of the majority of structures, caused by vandalism & weather related damage, there were deleterious materials, including broken asbestos cement sheeting, pigeon droppings & general rubbish, lying over most of the Ground Floor area.
For the areas containing fibrous and firmly bonded asbestos, which amounted to some 60,000 tonnes, this was remediated by a specifically designed process previously discussed with the HSE, who then visited the site to see the process working and no concerns were identified.
At the completion of the works, the site needed to meet the criteria regarding human health & groundwater.
Comments
The John Lewis/Waitrose site remediation was completed, approved by regulators & handed over to the building contractor on deadline.
Road & infrastructure construction work was completed on time, ready for the John Lewis/Waitrose store to open.