Our teams have undertaken many projects where we have combined our traditional demolition skills with groundwork, substructure and remediation packages. We are in a strong position to offer you reliable cost, programme and sequence advice at an early stage within the pre-construction period.
Piling Methods…
We use 'traditional' sheet piling and 'silent piling' methods to retain structures, create basements and form cofferdams on many projects. Sheets range from traditional 'U' piles to 'Z' piles, but on sites where maximising space is paramount, we use Zero piles within 25mm of the adjacent structure.
Augured piling is our preferred solution for temporary and permanent support works on many schemes. Secant piling, CFA and Restricted piling are also techniques used on a regular basis whilst undertaking enabling works packages. On large scale piling schemes we would partner with an industry leader to ensure we were offering the optimum programme and cost solution.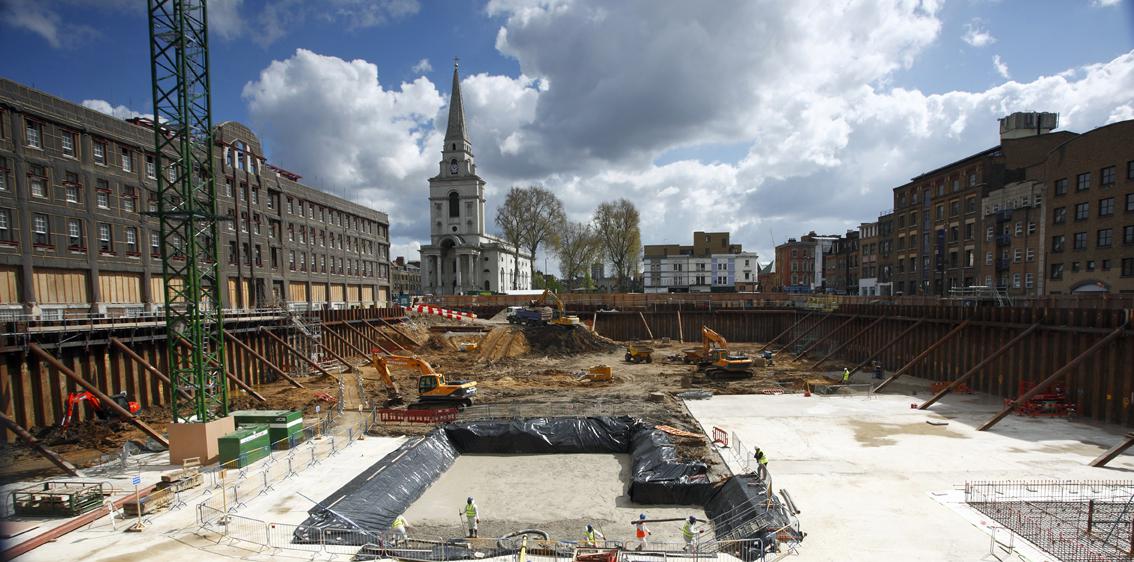 Underpinning
We have installed underpins ranging from 1 meter in depth down to 7 meters on central London sites. By programming the works very early in the demolition process we can normally complete a substantial proportion of the pins prior the completion of the demolition. Our in-house specialist companies are ideally equipped to service our underpinning teams with specialist machinery and lifting equipment for confined working.
Propping
Most of our central London schemes require temporary support to retain the existing structure or adjacent properties whilst under development. Our teams have designed, fabricated and installed innovative and efficient propping schemes for over 30 years. Most large complex projects require our designs to be in structural steel however on smaller schemes we have used several modular systems with excellent results.
Groundworks
We are able to offer all forms of groundworks activities ranging from, ground slab and foundation removal, bulk excavation, sequenced excavations to pile trimming, pile probing, shafts and headings. Our in-house Plant Hire Company run extensive fleets of machines to service our site teams with the latest equipment available on the market.