Due to rising costs and lack of space in major cities, clients are looking for deep but safe solutions below ground. The success of your construction project relies 100% on the quality of the ground upon which it stands. Our focus is it to make that quality as high as it can possibly be. Without question.
John F Hunt undertake the civil engineering work involved in the building of sub-structures. All aspects of Civil Engineering, ground works and concrete construction are carried out by us.
We are known for dealing with not only straight forward jobs but also complex and technical projects. These can be in tight inner-city areas, dirty brownfield spaces or large infrastructure sites.
We have always provided high quality, cost effective solutions, within budget and on time. We supply a complete service as we combine our demolition skills with civil engineering, groundwork, substructure and remediation. Covering all bases.
This puts us in a strong position at an early stage within the pre-construction period to offer you:
reliable costs
programming
sequence advice
Our teams can give full geo-technical advice on your soil make up, stability of the ground, and assess risks posed by site conditions. We offer:
reduced level digs
temporary works
bulk excavations
complex deep basement formations
piling
top-down construction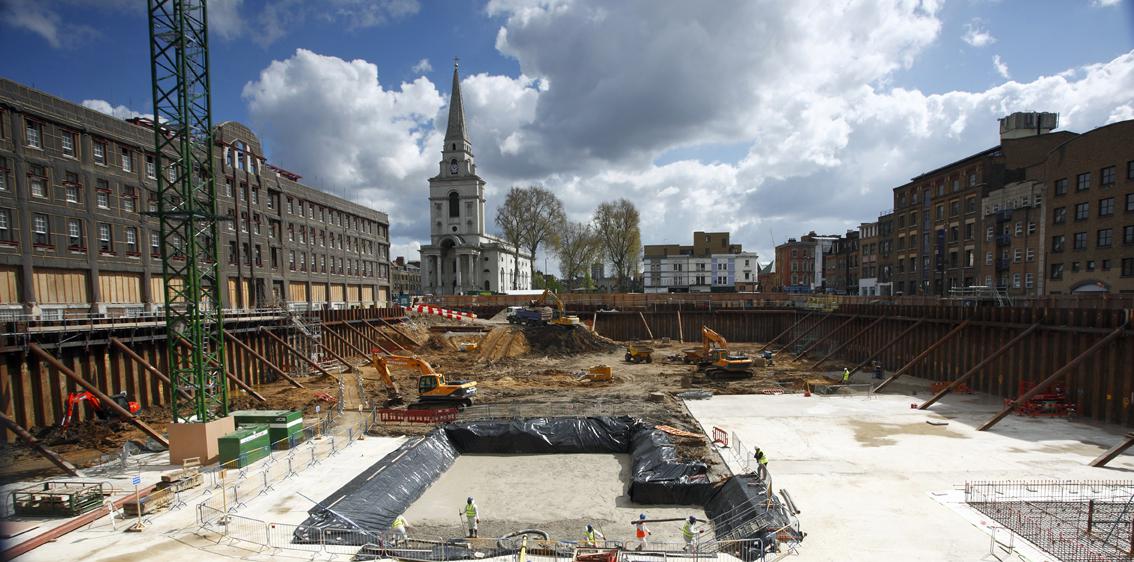 We have unlimited use of our in-house specialist companies in the John F Hunt Group. These support whatever services are required to keep your project on track. This means you don't have to go out to other companies should a problem arise. We can provide:
Demolition and ground works
Remediation – polluted land and water and hard/soft landscapes
Thameside Lifting – all lifting gear
Concrete Cutting – tight space work
Plant Hire – vast range of heavy plant and crushers
Power – for short term energy use
Asbestos removal
Ace – asbestos in soil testing
Hire Centres – small tools
Our work standards ensure high levels of health, safety and sustainability. Our environmental controls protect the local work area and help to lower our CO2 emissions. We strive to re-use, recover and recycle, sending very little waste to landfill.
Ground works…
As part of our service we are able to offer you all forms of ground work. These range from:
ground slab and foundation removal
bulk excavation
sequenced excavations
pile trimming
pile probing
shafts and headings
Our in-house Plant Hire run large fleets of machines to service our site teams with the latest equipment on the market.
With our own crushing units we are able to turn much of the demolition waste into a usable medium for the next phase of the project. It not only saves on costs, but on lorries moving in and out of the site, this in tun helps to cut the amount of traffic around our cities, CO2 and noise.
Piling methods…
Working with other John F Hunt services means we are able to deliver piling works at the same time as the enabling works. This benefits clients' programmes and lowers costs.
We use many forms of piling methods to retain buildings, create basements and form cofferdams:
Sheet piles range from traditional 'U' piles to 'Z' piles
Zero piles
Continuous Flight Auger piling
Cased Secant piling
micro piling
Large diameter rotary bored piling
Piled walls
Plunge columns
CFA and Restricted piling – enabling works packages.
On large scale piling schemes, we would join with an industry leading piling contractor to offer the best cost plan, agenda and piling equipment for your job.
Underpinning…
This makes the foundation of a building stronger, which with today's taller buildings is vital.
We use underpins from 1 meter in depth down to 7 meters on central London sites. With plans laid out very early in the process, we can finish a large number of the pins before the end of the demolition.
Propping…
Most of our central London jobs need temporary support to hold back the current structure or near-by buildings whilst under development. Our teams have designed, built and installed advanced and efficient propping schemes for over 30 years.
Most large and complex projects require our designs to be in structural steel but on smaller schemes we have used modular systems with good results.
We have easy access to central London projects with offices in:
When jobs are further afield, we have support from offices in:
Canterbury
Birmingham
Bristol
Leicester
Newcastle
Scotland
If John F Hunt can be of help or give you any advice on an up and coming Civil Engineering, Piling or Sub Structure project, please contact us.
Call us on 01375 366700 or email info@johnfhunt.co.uk.